LUXE IN A BOX
Try on at Home
With Luxe in a Box, you can try on any gown for only $50! Add an Accessory Luxe in a Box to try on your favorite pieces for $15
DESIGNER BRIDAL
View Our Collections
Our curated selection of designer sample gowns comes from the top bridal boutiques around the country
New Arrivals — Shop Sample Wedding Dresses Online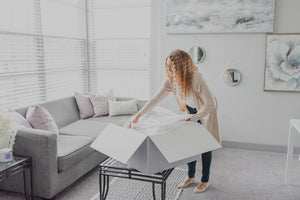 At-Home Try On
Luxe in a Box
Choose one or more dresses to try on at home. When you find THE one, it's yours to keep! Say yes, sip champs + simply send the rest back with the included shipping label!
Build Your Box
Throwing Love Like Confetti
We had a great time at Luxe Redux! I worked with Matt, who did a great job of pulling dresses based on my preferences (even when I felt like my preferences were out there sometimes!). The shop is pretty inside and the inventory was better/more interesting than the full price shops I went to. I also love seeing the diversity and representation of brides, couples, models, and staff of different races, genders, and sexualities on their social media. It made me happy to purchase from a place aligned with my values. I was planning to spend full price on a dress, but I'm glad I decided to shop at the stores with the highest reviews, which led me to Luxe Redux and a 40% discount on a designer dress that has never been worn by a bride!

Jennifer
I cannot recommend Luxe Redux enough! I worked with Maya and Kelsey and I cannot say enough good things about them! When I got there, I was so nervous and completely lost at where to begin. The girls listened to all of my opinions and managed to find my dream dress for me in the first two I tried on! We kept trying other styles to narrow down what I wanted and I ended up going back to the one I kept comparing the other dresses to. As soon as I saw myself in the veil, I was immediately in tears and I felt genuine happiness from Kelsey and Maya for me which I was so thankful for. I truly felt like they were rooting for me and were putting my confidence and comfortability first. I had no expectations for finding a dress or what I was in for and when my party left, we grabbed lunch and continued to rave about how amazing our experience was! I would recommend Luxe Redux to ANY and ALL brides that are just starting out and have no idea where to begin!!! They made my appointment the most special experience possible and I walked out that day with my dress!!!! I am so thankful for the staff and the salon!!!

Nicole
Danielle at Luxe Redux Bridal in Cleveland was amazing to work with, and she helped make finding the dress of my dreams absolutely magical. I will highly recommend Luxe Redux to all of my friends looking for dresses, specifically Danielle! She made me feel so comfortable, like I was shopping with another friend, she listened to every concern I had about other dresses I had tried and took everything she heard and picked more and more amazing dresses until we finally found the right one. I loved that her first questions for me were about my fiancé, Eric, and my engagement, not just down to business. She was incredible and I am so happy with my experience! Thank you so much!!

Amanda
The Luxe Redux Difference
Luxe Redux is a designer sample bridal boutique. Seeking + stocking the best sample wedding dresses at a fraction of the cost is our jam! Our curated selection of designer sample gowns comes from the top bridal boutiques around the country + lucky for you babe, they're just a click away!
Shop our full inventory online - it's like a wedding dress sample sale year-round! Browse gorgeous bridal gowns from top designers, all at a discount off the retail price. You can say yes online, try on at home with Luxe in a Box or visit a boutique in Cincinnati, Cleveland, Columbus, Detroit, Houston, Indianapolis or Pittsburgh!
Luxe Redux is the ultimate bridal shopping experience, with 3 different options for saying yes to your dream dress! We offer our ready to ship wedding dresses for sale online, you can try on at home with Luxe in a Box, or visit one of our seven boutique locations for a one-on-one bridal appointment.
We carry an always-evolving selection of designer bridal samples, from under $1000 to our luxury collection.  We source our gowns from top bridal boutiques, including sample wedding dresses from designers such as Berta, Hayley Paige, Jenny Yoo, Made With Love, Watters, and Monique Lhuillier.
Have something specific in mind?  Check out our long sleeve, off-the-shoulder, boho, and plus size bridal collections!